Those red/orange patches have returned to your hands and elbows. The itchiness bothers you, but you know that if you scratch your skin,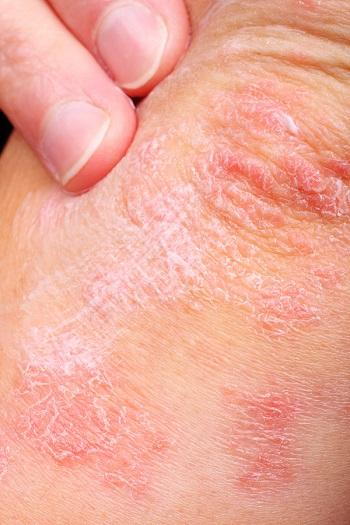 you'll just worsen these scaly areas. What would relieve your eczema? Please consult your dermatologist, Dr. Vernon Thomas Mackey, at Advanced Desert Dermatology. Dr. Mackey diagnoses and treats skin conditions of all kinds, including eczema, in his Peoria, AZ, office. He is an expert on the various types of eczema, their triggers, and how patients just like you can control this chronic skin condition.
The details on eczema
Research indicates that the inflammation, itchiness, burning and raised skin patches common to eczema in Peoria, AZ, stem from auto-immune sources. The National Eczema Association states the 30 million adults and children in the United States suffer with eczema, and yes, it originates in their own bodies, runs in their families, and flares up in response to a wide range of triggers.
Areas behind the knees and on the face, back, elbows and abdomen become inflamed because of an allergic reaction to or contact with certain substances, including:
Pet dander or animal proteins (such as dog saliva)
Detergents
Perfumes
Smoke
Pollen
Fabrics such as wool
They aggravate the two most common forms of eczema: atopic dermatitis and contact dermatitis. Both appear associated with two other autoimmune disorders: asthma and hay fever.
After visual inspection by your dermatologist, he'll likely recommend some common sense treatments for these kinds of eczema, including:
No scratching to avoid the itch/scratch cycle
Moisturizing creams
Topical steroids in severe cases
Avoidance of what triggers your symptoms
Other forms of eczema
Another common kind of eczema is dyshidrotic eczema, and it's primarily a women's skin issue. Marked by small, super-itchy, red blisters on the hands and feet, dyshidrotic eczema comes on with stress, moisture on the hands and feet (sweat), and contact with pollen, nickel (jewelry) and cobalt (often found in paint).
Other individuals suffer with lichen simplex  chronicus , an eczema that causes large leathery skin patches. Stress is the major trigger with this skin problem, and medications containing deep moisturizers, zinc, or steroids are the treatment of choice for this stubborn condition.
Finally, nummular (discoid), seborrheic (involving the hair follicles), and stasis eczema (resulting from poor circulation in the extremities) cause varying degrees of itchiness, lesions and
skin breakdown. While all forms of eczema may lead to scarring and skin thickening if untreated, stasis dermatitis may damage the skin extensively, leaving ulcers and infection.
Finding relief for eczema
You can when you consult Dr. Mackey and his team at Advanced Desert Dermatology in Peoria, AZ. Call his office team at (623) 977-6700 to schedule your appointment.