Find out whether your red patchy skin could be due to psoriasis.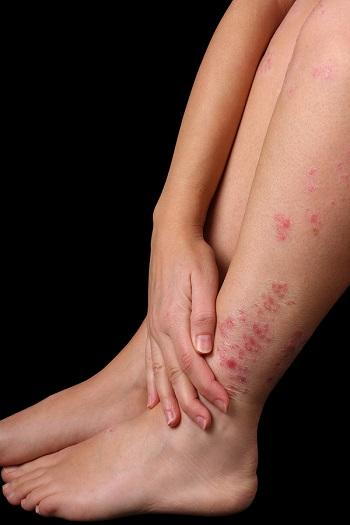 Psoriasis is an autoimmune disorder that causes scaly, rough patches to manifest anywhere on your skin. These patches will often flare-up, meaning that sometimes you'll experience symptoms and sometimes you won't. The flare-ups may be severe or mild and some people experience flare-ups more regularly while others may only have a couple flare-ups a year. Of course, it's important to determine not only if you have psoriasis but what kind you have. Our Peoria, AZ, dermatologist, Dr. Vernon Thomas Mackey, is here to provide a little insight into the different kinds of psoriasis you could have.
There are five different kinds of psoriasis:
Plaque
Inverse
Guttate
Pustular
Erythrodermic
Psoriatic arthritis
Plaque Psoriasis
This is the most common type of psoriasis and it causes thick, red patches anywhere on the body; however, these patches most commonly appear on the elbows, knees, scalp and back. You may find that these patches are also itchy. If you scratch you will find that the itching only gets worse.
Inverse Psoriasis
This type of psoriasis is often shiny and red and these patches are more likely to be found within the folds of your skin such as your armpits. It's not uncommon for someone with this form of psoriasis to also have another type of psoriasis as well. In the beginning, a lot of people mistake this psoriasis for a fungal infection.
Guttate Psoriasis
This is the second most common form of psoriasis often appearing as early as childhood. Unlike plaque psoriasis, these small pink spots are not as thick and they may be found on the arms, legs, stomach, scalp or face. In many cases, a flare-up is brought about by stress, an illness or taking certain medications.
Pustular Psoriasis
This is one of the more serious forms of psoriasis that causes (as you may be able to tell from the name) white bumps containing pus to develop on the skin. Even though many people think of pus and immediately assume they have an infection, especially because this form of psoriasis can also cause flu-like symptoms, there is no infection present.
Erythrodermic Psoriasis
This is probably the rarest form of psoriasis and it often looks like someone has incurred serious burns. This is a more widespread form of psoriasis that can affect extensive areas of the body. Erythrodermic psoriasis is considered serious and should be treated right away.
Psoriatic Arthritis
While people often assume psoriasis is a skin condition, our Peoria skin doctors are here to tell you that it's actually an autoimmune disorder that attacks the skin. In some cases, such as this one, it can attack the joints, as well. This causes serious and chronic pain and swelling in the joints.
Are you experiencing symptoms that make you concerned that you might have psoriasis? If you are faced with this disorder let the dermatological experts at Peoria, AZ, give you the care you deserve to fight your symptoms. Call Advanced Desert Dermatology today.